Know the Issue
When gaming habits become gambling problems.
The earlier people are introduced to gambling, the more likely they are to become problem gamblers as adults – and too many young people are at-risk. Many of the games youth play for hours on end simulate the same excitement experienced by gamblers. Opportunities for instant upgrades, mystery loot boxes and games of chance flash across the screen every time they log in. If problem gambling isn't halted early among kids, it can have consequences that affect the rest of their lives. The resources available through Change the Game are designed to help educate and inform adults and the young people in their lives about the problem.
Take a chance. Earn a Bonus!
Unlock the Numbers
Did you know...
6.5% of 14–21 year-olds are at risk for problem gambling.
Children introduced to gambling by age 12 are four times more likely to develop a gambling problem.
Many gaming apps are marketed to 2–17 year-olds.
The reality of youth gambling
The warning signs:
Students miss classes or entire school days with no explanation.
Grades suddenly drop or assignments aren't being completed.
Disinterest towards extracurricular activities
Behavior becomes more secretive, defensive or aggressive.
There's an increased interest in money and value of possessions.
They speak openly about an interest in gambling or borrowing money.
Youth gambling in Ohio
Who's at risk?
Gambling-inspired gaming apps are marketed toward children as young as 2.
High school students find the lure of "big wins" hard to resist.
College students away from home for the first time have money to game with and no oversight.
It's time for a reality check
What are the consequences?
Students may lose money they need for school materials or meals.
Students may neglect their studies or part-time jobs.
Emotional stress and depression can build in children and teens.
Increased risk for delinquency and crime.
Students may end up with many damaged relationships.
Increased risk for substance use and abuse.
The Solution
We all have a role in prevention.
Establish limits on game time.
Go analog with family board game nights.
Use Parental Controls on devices.
Get educated
The warning signs are right in front of you.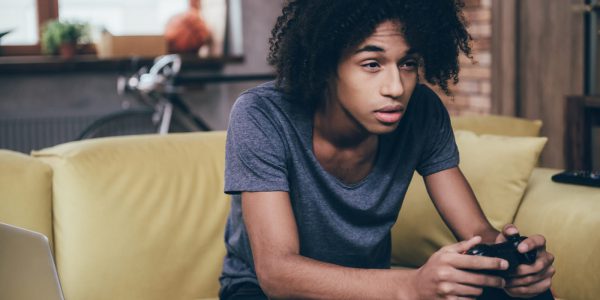 Talk about the risks.
Learn how to start the conversation with your kids.
Missed classes? Dropping grades?
Know the signs of problem gambling in students.
Loot boxes. Instant upgrades.
Do the games you play put you at risk?